WATER IS THE BEST FOR THE SPORTS DAY, class 9 C
It was great to see young people running 1000 meters. They also had to do other things beside this. I wonder how I would manage.
I invite you to read the articles that the pupils from 9th class have written on the topic of the sports day.
Alenka Nikšič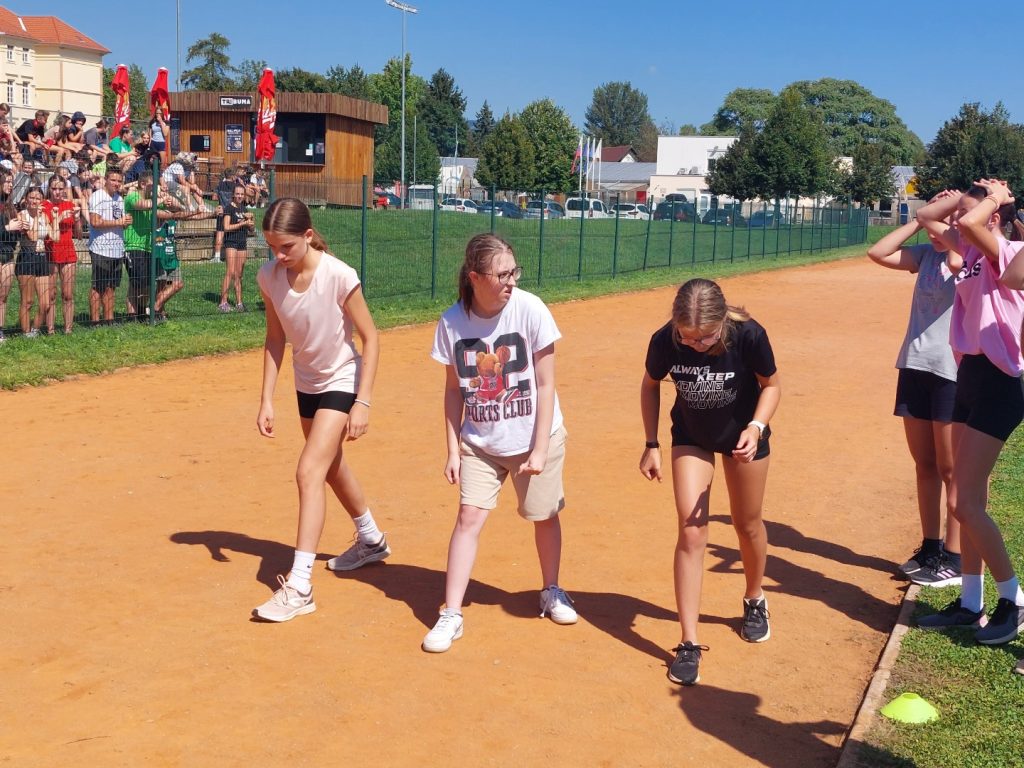 foto by Martina Kokelj: the start of the relay race for 9th class, the pupils from class 9 A, B, C who ran the relay race for 9th class
Sports Day
On Thursday, 7the September, we had a sports day. On this day we ran 1000m and 100m and I was satisfied with my results. We also threw vortex and jumped into the distance. I know that I could achieve a higher result at jumping, but my result was quite ok. We also had two relay races where I didn't run.
I ran and exercised a lot, so I needed a lot of energy. I drank a lot of water and ate a sandwich that we got in school.
I had a great time on the sports day and I wouldn't add anything.
Lana, 9 C
Energy Drinks and the Sports Day
On 7th September we had a sports day in school. When we arrived at the stadium we sat down and waited for it to start. When we got instructions what to do my classmates started with the day. I didn't go with them because I was injured. But I did throw the vortex. I threw it 41.3 meters. I was the second best at it in the class. Then my classmates went to run 1000m. First there were the boys and then the girls. Then we went to play volleyball, but I didn't. Then they went to jump in the sand pit. And the last thing was the 100m sprint. When we came back, I opened and drank my Red bull that I had with me. I drank this energy drink because I like the flavor.
There are lots of different energy drinks available on the market. They are also easy to get.
It is not good to drink energy drinks because they are addictive and you can get heart attacks, headaches, you have trouble sleeping, bad reactions on medicine, throwing up, stress hormone release, if you're a man there is a possibility that you can't have kids.
I also know that I can get energy from anything else like healthy eating, more sleeping…
Now I know not to bring energy drinks to school. And that the sports day is the same as school.
I am also aware that it is not good to drink energy drinks.
Daniel, 9 C
Sports Day
We had a sports day on Thursday, September 7th, 2023. Before I went to the sports day, I drank a lot of water and ate breakfast to have enough energy.
We gathered in front of school at 8 am and went to the sports park, where they told us what we were going to do. We ran 1000 meters and 100 meters, where I know I could have done a little better at the end but I was quite tired. We also threw vortex and jumped for distance, which went great for me. And of course we had a little time for a snack break.
In the future, I wouldn't add or change anything to this sports day, because I was very pleased how they prepared the day for us.
Ema, 9 C
The Sports Day
The sports day started at 8am with meeting in front of school and at 8.20am we went to the running track. Then it started with teachers giving us instructions. After that we started with throwing a vortex. Next thing we did was running for 1km. Then we had a break and after break we had sports games. After that we had jumping for distance and the last thing was running for 100 metres.
I think I can have better result, but it is what it is.
So, I drank an energy drink because it tastes good.
Energy drinks are usually very sweet and contain a high amount of caffeine and other stimulants. While they can give you a temporary energy boost, they can also have unwanted effects. Excessive consummation of energy drinks can lead to sleep problems, increased anxiety, heart issues and other health problems. It's important to consume them in moderation and be aware of their impact on body.
Jakob, 9 C
(Skupno 240 obiskov, današnjih obiskov 1)